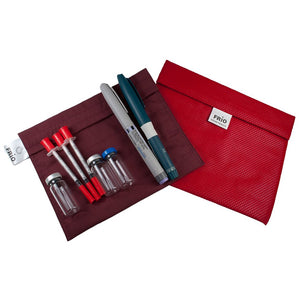 FRIO the world's first patented cooling wallet
– Simply activate with cold water!
– Light and compact
– Reusable
-Designed to keep in-use insulin within safe temperatures of 18-26°C (64.4-78.8°F) for 45 hours minimum, even in a constant environmental temperature of 37.8°C. Please note it is not a fridge alternative.
All FRIO wallets have been designed with patented crystal technology to keep your temperature sensitive medication - such as insulin - cool and safe.

Ideal for carrying various combinations of pens, vials and cartridges like: 8 x insulin injection pens - either pre-filled disposable pens or refillable pens (not incl.) or 20 x 3ml or 1.5 ml cartridges (not incl.) or 8 x 10ml vials of insulin and syringes (not incl.)